Video with 5 notes
Caldera (2012) from Evan Viera on Vimeo.
CALDERA: Stunning animation about psychosis by Evan Viera.
CALDERA is inspired by my father's struggle with schizoaffective disorder. In states of delusion, my father has danced on the rings of Saturn, spoken with angels, and fled from his demons. He has lived both a fantastical and haunting life, but one that's invisible to the most of us. In our differing understanding of reality, we blindly mandate his medication, assimilate him to our marginalizing culture, and entirely misinterpret him for all he is worth. CALDERA aims to not only venerate my father, but all brilliant minds forged in the haunted depths of psychosis.  

Evan Viera
(Thanks Boin Boing)
Video with 8 notes
"…there's nobody in the universe can do what we're doing."
Post with 1 note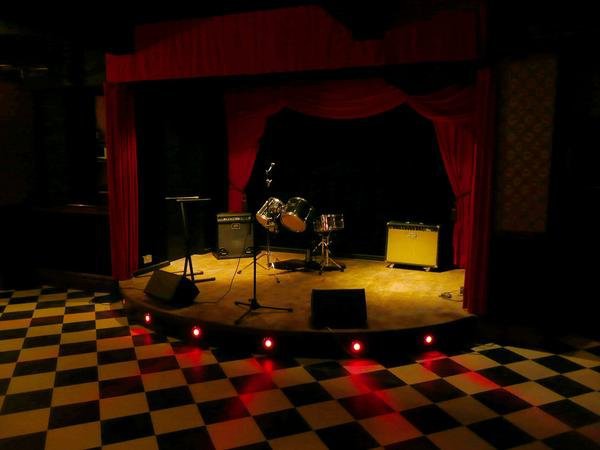 Tom Clutterbuck had such a nice one himself here last week that I felt compelled to go along and have a look myself. It's in the very nice back room of The Cavendish Arms in Stockwell and I' reckon it's one of the nicest looking rooms fro comedy that you'll find in South London- let alone for free!
The night is called 'Comedy Virgins' and, in fairness, there are some VERY new acts here.  However, there's also small pockets of longer serving clowns in the shadows so the atmosphere is one of dignified support - unlike the pay-to-play rabble vent of Lions Den for example.  I was on first and iI don't know if it's because they weren't warm enough or if I didn't cater to the room effectively but - either way - I didn't raise the roof the way I managed only a few days before at Up the Creek.  Probably a good thing though, I was feeling a tad over secure with my new standard 5 and now have cause to think that having a standard 5 at all is possibly something I should try and get beyond.
Pleasant surprises of the evening were two-fold.  Firstly, I saw more from the excellent (and previously blogged about) Dave Green.  
He seems to be something of a darling of the venue and they mentioned that they'll be supporting his new show.  He's got a good line in meta-comic, surreal rambling which is always a big winner with me.
However, clear winner of the night was the very polished and really rather tall Tom Moran.  
He's got observational and impressionist chops as well as being a lovely chap to boot (though I like anyone who offers me a gig!).  Anyway, he's a Norwhich boy at present but expect to see more of him about town.
Post with 4 notes
Loathe as I am to be one of those guys that does nothing but post videos of cute girls playing the ukulele, I thought this was just too nice not to share.  It's a cover of Pure Imagination which, as those who know me will attest, is  something of a favourite of mine and Sophie Madeleine both sings n plays it beautfully. Enjoy! 
(re-blogged, with thanks, from Mark Frauenfelder on BoingBoing)